Mission Statement: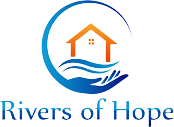 Rivers of Hope strives to foster confidence within all individuals of the community to enable them make decisions with confidence and live with dignity and respect. We do this by offering an abundance of person-centered solutions to empower the community with the knowledge and resources so everyone can live their best life. An extension of our mission is to provide financial, educational, and instructional support to family members who will be assisting the individuals.
Company Vision:
Utilizing a person-centered approach of care maximizes our members' independence, right to kindness, and understanding, encourages inclusion within families, and builds community connections.
Values:
We embrace our responsibility to our communities. Our employees and people we serve is the essence of our culture. We will serve anyone that is in need with humility.